Attic Mold Treatment
Prevent mold growth in your attic with the Mold-X2 system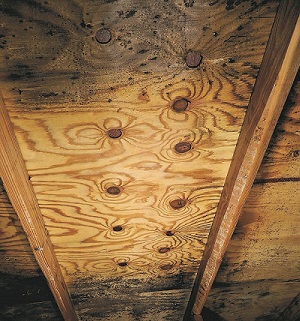 Dark, discolored areas of mold growth can be restored with Mold-X2.
The humid conditions of the attic create the ideal environment for mold growth, causing many homeowners to have to deal with this issue. Mold can lead to several health problems for the home's inhabitants, which is why it's important to thoroughly remove mold spores and treat affected areas.
At Attic Systems, we use the Mold-X2 system to treat mold growth and prevent future mold problems. This anti-microbial cleaner is designed to eliminate mold on contaminated surfaces and prevent the mold from returning. If you're interested in the Mold-X2 mold treatment system for your attic, give us a call today to learn more about how we can help you!
How the Mold-X2 system works
The Mold-X2 system consists of two key products — Mold-X2 Stain Remover and Mold-X2 Botanical. Mold-X2 Stain Remover is designed to clean contaminated surfaces, such as exposed wood. Once applied, the Mold-X2 Stain Remover will eliminate dark stains and discoloration that are caused by mold growth, restoring the appearance of the surface.
The next step is to apply Mold-X2 Botanical, which will prevent mold from re-growing on these surfaces. The anti-microbial properties of Mold-X2 Botanical make the treated area resistant to mold growth, without posing any risks to humans or pets. Together, these two products help keep your home protected from mold growth and ensure you have healthy indoor air quality.
Air sealing and insulation help prevent mold growth
Mold requires moisture and organic material, like wood roof decks, to grow. Attics get moisture from warm air that leaks from the home into the attic in winter, which will condense on cold roof decks. In many cases, mold growth is a direct result of poor ventilation and improper air sealing, either to the outside or because of something such as an incorrectly vented bathroom van.
Air sealing from Attic Systems is a great way to prevent warm, humid air that can lead to mold growth from entering your attic. We eliminate gaps and cracks in the attic that allow this air from escaping into your cold attic and condensing on your roof deck.
Get the Mold-X2 system for your attic mold problems
If you have mold growth in your attic or are concerned about preventing future problems, Attic Systems can help! Our Mold-X2 system is a proven, effective solution for attic mold problems, and it can work in your home too. Contact your local Attic Systems dealer today to learn more and get an estimate on attic mold prevention services.