Duct Sealing
Duct sealing eliminates air leakage and improves HVAC efficiency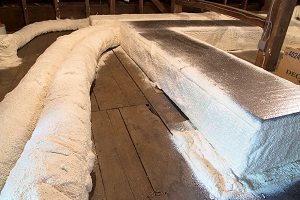 Duct sealing is essential to improving the performance of your heating and cooling system.
When homeowners try to improve their energy efficiency, they often overlook the importance of their ductworks. Leaky ductwork is a problem in many homes, and air loss through ducts can have a significant negative impact on the efficiency of any HVAC system.
At Attic Systems, we can help you prevent these issues in your home with duct encapsulation and sealing. By sealing leaks and seams in your ductwork, you can be sure you're getting the proper airflow through the ducts, helping your HVAC system run more efficiently. If you're interested in duct sealing for your home, call your local Attic Systems dealer today for an estimate!
How leaky ductwork affects your efficiency
In order for your HVAC to run at maximum efficiency, it's essential to have proper air flow through your ductwork. Many heating and air conditioning systems operate well below peak efficiency due to insufficient air flow, often because of duct leakage. When this occurs your system needs to run longer to get enough air through the ducts to heat or cool the room to the proper temperature.
This process is naturally inefficient and will lead to higher heating and cooling bills as well as uncomfortable rooms. At Attic Systems, we can test your ductwork for leaks by pressurizing the duct system and measuring air loss. This allows us to determine where your leaks are and how severe they are.
Proper duct sealing improves performance and efficiency
There are two ways to properly seal your ductwork. We can use a compound called duct mastic that is specifically designed for duct sealing. This material seals joints, gaps, and other weak points that can allow air to escape, ensuring your ducts are airtight and your HVAC system is getting the correct air flow. Attic Systems can also use spray foam to air seal and insulate your ducts at the same time!
At Attic Systems, we strongly recommend following up duct sealing with duct insulation. Together, these two steps maximize the efficiency of your heating and cooling system and will help save you money while making your home more comfortable.
Start solving your energy problems with duct sealing today
If you've noticed issues with uneven temperatures in the home or high heating and cooling bills, leaky ductwork could be the source of your problems. Attic systems can help you identify ductwork problems in your home and provide you with a quality duct sealing solution. Contact your local dealer today for an estimate!